ASK ABOUT THE NEW BAG GAS TESTING SYSTEM
CO2 Regulator System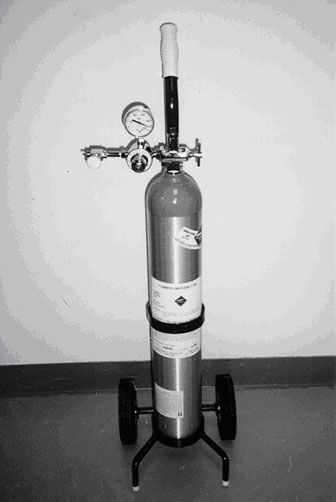 The CO2 Regulator System provides fast, safe delivery of carbon dioxide for a variety of purposes. The system consists of a new, aluminum Type E cylinder filled with ULTRA HIGH PURITY USP Carbon Dioxide with a Minimum purity of 99.99%. A research grade high purity CO2 regulator with a stainless steel diaphragm preset at 25 psi., a push-button operated safety fill valve, a male Luer lock fitting, submicron sterile hydrophobic filters, and a cylinder cart.
System purity begins with the new aluminum CO2 cylinder. Aluminum is non-corrosive and not subject to interior rust, a condition common to steel cylinders. Since CMD supplies a new cylinder, there is no danger of the cylinder having previously been contaminated by other industrial gases, moisture, etc. Each individual CO2 cylinder is analyzed by mass chromatography to ensure purity. A certificate of analysis is supplied with each cylinder.
The regulator is a high purity research grade gas regulator intended for primary pressure control of high purity no corrosive, research gases. Each regulator has been set at 25 psi. to ensure a proper gas flow rate.
We offer the regulators with ether a CGA320 nut cylinder connection or a medical CGA940 yoke cylinder connection. The preset regulator has one gage that shows pressure of the cylinder and is preset to 25 psi.. The adjustable regulator has two gauges, which indicates pressure in the cylinder and the set pressure. The regulator pressure is adjustable 0 to 40psi.
All cylinders purchased from CMD, Inc. are new aluminum type E cylinders. Cylinders come with a CGA320 diaphragm valves for use of ultra pure grades of CO2, All cylinders are individually tested to insure purity and certificate of analysis are provided. A full cylinder of carbon dioxide will read about 840 psi. . Full cylinders contain approximately 1.3 million cc of CO2. A refill should generally be ordered when the cylinder reaches approximately 600 psi. When you order a refill you simply put your empty exchange cylinder in the box that the refill came in, and place the provided UPS return labels on the shipping box and take it to your shipping /receiving department.
Used cylinders are supplied only when a customer requests a refill rather than purchasing a new cylinder, and have only been filled with high purity USP Co2. Many facilities purchase an additional cylinder initially to ensure always having a gas supply. We now offer a second cylinder at a reduced cost.
On the low pressure end of the system is a push button fill valve. This push-button must be manually depressed to release the gas flow. This is a safety feature designed to prevent the user from opening the cylinder valve to release gas flow, and then neglecting to turn it off quickly enough to prevent waste, or even overflowing or bursting whatever device is being filled with the CO2. Additionally, the use of this valve allows the user to more precisely deliver the amount of CO2 desired.
The final components of the system are the luer lock fitting and sterile submicron filters. The luer lock fittings are standard catheter/syringe type components, and are available in either male or female connections, with male being standard on the system. Screwing onto the luer fitting is a .2-micron filter, which also has a dual luer connection. Although purity of gas flow is assured throughout the system, the filter provides a sterile barrier. 25 individually blister packed, sterile filters are included with the system. The filters and the CO2 itself are the only disposable components of the system.
The CO2 Regulator, has been carefully put together, to provide the user with maximum assurances of safety, as well as ease of operation. The user can rest assured that the CO2 flow from the low-pressure end of the regulator passing through the filter is of the same purity as the gas in the cylinder. Any operator will be able to set up this system and have it operational in minutes.
Standard USP Carbon Dioxide only has to have a Minimum Purity of 99.0%. Only one cylinder per batch of cylinder filed has to be tested for minimum requirement to be USP Carbon Dioxide
Every cylinder we stock is filled with USP Carbon Dioxide and has been individually analyzed and provided with its certificate of analysis. With a minimum purity of 99.99%
CO2 Regulator System Features
New MED. Aluminum Cylinder, Type E, with A high purity CGA 320 Diaphragm valve
1,3OO,OOO MILLION cubic centimeters of USP Carbon Dioxide with Minimum Purity of 99.99%.
High purity Research Regulator Pre-set, or Adjustable gas flow, with CGA320 connector for ultra pure applications.
Fill Valve, push-button, spring loaded with Luer Connections
Sterile sub-micron hydrophobic filters (25 ea.)
Cylinder Cart
Cylinders can be shipped UPS ground, or Next day AIR.
Complete System cost: $745.00 (Order Part Numbers 10MECH-PREHP &10CYL-E-SHP)****
To place an order please fax purchase order to fax#352-335-5948
For additional information call CMD, Inc. at (352) 336-2488.
CO2 PRODUCT PRICE LIST
Product Code
Description
Mechanical components consist of Regulator filters and cart
10MECH- MED-adj.
Mechanical Components, CO2/Adjustable regulator/CGA940 yoke
10MECH-MED-pre
Mechanical Components, CO2/pre set regulator/CGA 940 yoke
10MECH-adj-HP)
Mechanical Components, CO2/Adjustable regulator/cga320
10MECH-pre-HP
Mechanical Components, CO2/pre set regulator/cga320
Complete regulators
10 REG-ADJ
CGA320 High purity Adjustable Research Regulator with valve-luer
10 REG-PRE
CGA320 High purity Preset Research Regulator with valve-luer
10REG-MED-PRE
UN940 cylinder connection Preset Regulator with valve-luer
New cylinder filled with USP Carbon Dioxide with certificate of analysis 99.99% min purity
10CYL-E-SHP
NEW E Aluminum Cylinder, Diaphragm valve full USP CO2 99.99%
Refilled cylinders with certificate of analysis
10CO2E-R
Med POST CGA940 valve Cylinder Refill, USP CO2 minimum Purity of 99.9%
10CO2E-SHP-R
cga320 Diaphragm valve Cylinder Refill, USP CO2 min Purity of 99.99%
Filters
10FILTPK02
.2 micron, 25mm, Sterile filters box of 25
Accessories
10CART-E
Cylinder Cart, for Med. E cylinder
10VALVE01
Valve, Nickel, Push-Button with luer
10LUER
LUER TO 1/8 NPT
10YOKE
Yoke, CO2
Part numbers needed to order a complete system 10MECH-PRE-HP &10CYL-E-SHP
Call CMD, Inc. at (352) 336-2488 for additional information
To place an order please fax P.O. to 352-335-5948 Shipping is not included